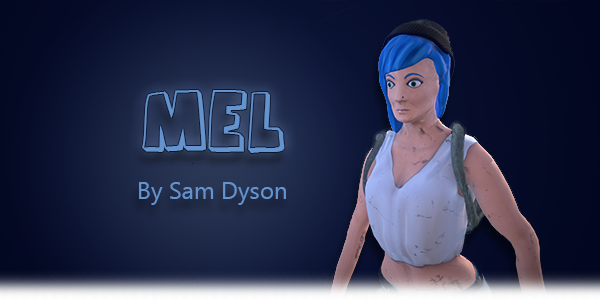 Mel
A downloadable asset pack
Mel is a punk skater girl trying to survive in a whole new world after a virus outbreak took away all of her family and most of civilisation with it.
Overall, I am happy with my finished character as I successfully completed the full workflow sticking to the brief and completing within the time frame. Going through the whole process has given me a clear understanding of the workflow of creating a character. I had issues with the baking when I retopologised each item of clothing individually and realised it was because of the way I'd extracted the subtools so I found the bake worked better by making my low poly one mesh including the clothes and using the normal map bake on the clothes, this also meant I was using less polys and had a much better optimised low poly mesh.
I am really happy with the texturing of the character, I was consistent with the style and the majority of the character was all hand painted with the use of an alpha map for the tattoo which I created myself, so I feel a demonstrated a number of skills when it came to the texturing of the character.
Going forward, I've learnt from this process that I want to invest more time in to learning more about skinning to get a better outcome when it comes to posing my characters, as this was the part I found most difficult as I knew very little about it, this restricted me to only being able to do very basic poses, so that is definitely something I need to work on more.